Baltimore Mural Ushers In New Radiosurgery System At Sinai Hospital
January 16, 2018 at 5:49 pm

BALTIMORE (WJZ)– Undergoing treatment for cancer is physically and emotionally draining.
Radiation oncologists at Sinai Hospital are using a new radiosurgery system called the Varian Edge, which is non-invasive and can pinpoint very small specific areas for the treatment of tumors.
Now, thanks to a local artist, patients being treated at Sinai have something beautiful to focus on… in an effort to ease some of the pain.
The Edge system uses high-dose radiation with sub-millimeter accuracy to precisely target tumors all over the body including in the brain, spine, lungs and prostate. This also reduces radiation exposure to nearby healthy organs.
Dr. Jeanette Linder is Chief of The Weinman Family Department of Radiation Oncology at Sinai Hospital. She says that while the technology is incredible… "It's very scary. There are things happening out of your site, and even while we are talking to them and playing music, it's still very, very frightening."

In an effort to make a difficult situation a little easier, staff at Sinai reached out to Baltimore artist, Joan Cox.
Cox, was quickly commissioned to create a ceiling mural to go above the Edge system.
"We talked about Baltimore things and they really wanted that feeling," Cox says."And the first thing that came to mind was Pimlico, because it's right next door of course."
Across the ceiling, above the Edge treatment system is a colorful collage of custom illustrated images representing Baltimore. Among the many things patients can find are row homes, Pimlico Race horses, Black-Eyed Susans, the Bromo Seltzer tower, a raven, an oriole and other embedded images. There are also multiple symbols of hope and happiness such as hearts, ribbons and butterflies.
"I wanted that 'OK, you're down the rabbit hole feeling,'" Cox says. "You're down here and you're looking at this beautiful world blossoming above you."
"We like seeing that balloon," Dr. Linder says. "It's like it's carrying away their worries, and their tumors and they can find all sorts of hope in there."
Advances in Radiation Therapy at the Alvin & Lois Lapidus Cancer Institute
Medical Moment on WBAL TV Baltimore
March 26, 2018
Patients needing radiation treatment are benefitting from a new technology that uses six different tools to target a tumor for improved accuracy. Sinai Hospital is the first in Maryland to use the new Varian Edge, which delivers radiation with pinpoint accuracy to tumors in faster treatment times – as little as 10 minutes.
The Edge has the ability to deliver radiation to tumors in all areas of the body, and its tracking system adjusts to tumor movement resulting from patient positioning changes and breathing. Its accuracy means that nearby organs and tissues receive lower radiation dosages and fewer sessions are needed to complete treatment.
The Edge is the only completely hybrid machine that provides conventional and stereotactic (high dose, highly focused) therapy and it is connected to the patient's electronic medical record limiting time needed for planning and data capture.
In this Medical Moment, you will see how the latest technology at Sinai Hospital provides radiation therapy with pinpoint accuracy for a breast cancer patient. Dr. Jeanette Linder, chief of radiation oncology at the Weinman Family Department of Radiation Oncology for Sinai Hospital and medical director of the Alvin & Lois Lapidus Cancer Institute at Sinai and Northwest hospitals, explains how the new technology provides better coverage in shorter time, and in a beautiful setting unique to Baltimore.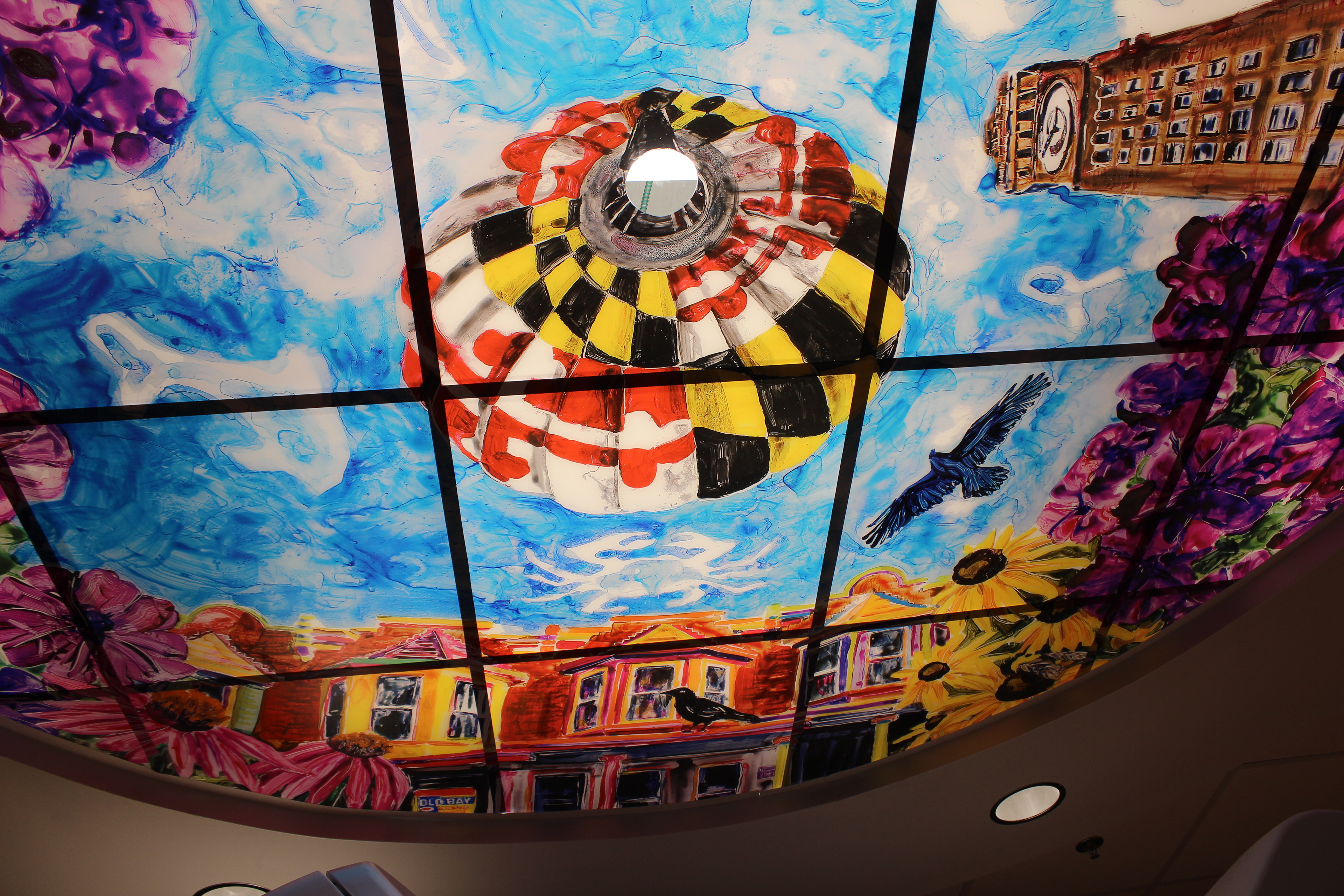 Custom painting (art installation #lightmural) at Sinai Hospital/LifeBridge Health in Baltimore over the Varian Edge radiosurgery table for patients to enjoy while receiving Radiation treatments.